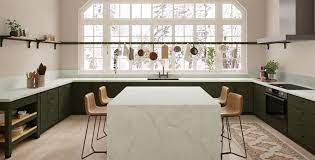 Frequently Asked Questions
What are the advantages of granite and quartz worktops?
Granite and quartz are highly durable and resistant to scratches, stains, and heat. They are also easy to clean and maintain, and come in a wide variety of colors and patterns to suit any style.
How are granite and quartz worktops installed?
Granite and quartz worktops are typically installed by professional stonemasons, who take precise measurements of your kitchen or bathroom and cut the slabs to fit. The worktops are then sealed and polished to provide a smooth, hygienic surface.
Can I cut directly on my granite or quartz worktop?
Granite and quartz are highly resistant to scratches, it is still recommended that you use a cutting board to prevent any damage to the surface.
How do I clean and maintain my granite or quartz worktop?
Simply wipe the surface with a soft cloth and warm soapy water, and avoid using abrasive cleaners or scrubbers. It's also recommended to have your worktop resealed every few years to maintain its luster and protect against stains.
Are granite and quartz worktops expensive?
Whilst granite and quartz worktops may have a higher initial cost than other materials, they offer excellent value for money due to their durability and longevity. They can also increase the value of your home and provide a stylish, high-end look.
At Lakeland Granite Limited, we are committed to providing our customers with expert advice and guidance on all aspects of granite and quartz worktops. Contact us today to learn more about our products and services.